A while ago a publisher approached me to see if I would consider writing 'Charlotte Mason Made Easy' as a book.  We worked together on the project over several months and the book has just been released.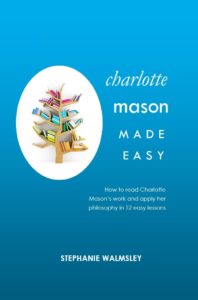 If you want to know more about Charlotte Mason Made Easy click here
In New Zealand the price is NZ$29.50 including delivery.
Email me: stephanie at Charlottemasonmadeeasy dot com
Worldwide, the price is AUS$25 plus delivery.  Click here
The book will also soon be available on Amazon and on The Book Depository.  Check back here for the link soon.
P.S. I will be touring the North Island with Firelight Foundation in early September, visiting Whangarei, Hamilton, Tauranga, Gisborne, Hawkes Bay, Palmerston North and Wellington. I will have my book with me for sale.