This year I am reading 10 twentieth-century books which have not been made into films or television programmes but are excellent books anyway.  The book I have read during April needs to have been published between 1920 and 1929. I found this gem: 
The Blue Castle by L M Montgomery
Published in 1926
Available at libraries as a paper book and likely as an eBook
Check second-hand bookshops.
Also available new in bookshops and online.
Available free at Project Gutenberg http://gutenberg.net.au/ebooks02/0200951h.html
We are now into the 1920s publications, and again I found a lot of famous books made into films. Some film-of-the-book titles from the twenties include: All Quiet on the Western Front, The Sun Also Rises, The Great Gatsby, Winnie the Pooh, The Age of Innocence, Mrs Dalloway, A Farewell to Arms, A Passage to India, Lady Chatterley's Lover, Enchanted April, Forsyte Saga, Dr Doolittle, and various Agatha Christie stories,
The number of good books not made into films increases though, so that's good for me with my quest. In the end I chose a famous author and a lesser known book. This book is one of the few the author wrote for adults, and the only one she wrote that doesn't include Prince Edward Island somewhere in the story. It's The Blue Castle by Lucy Maud Montgomery – she of Anne of Green Gables fame.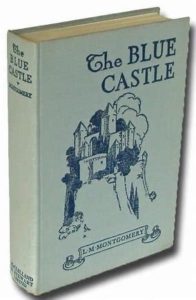 The Blue Castle was recommended to me, but when I started reading it, I got really mad with the heroine! I had to persist though, because the person who lent me the book was so enthusiastic and I didn't want to let her down. In fact, she told me it was one of her favourite books.
I am so glad I continued reading because I have just finished one of the best reads in a long while. Lounging in the late autumn sunshine during lockdown, laughing out loud, hugging myself with glee, enjoying the wit and sly humour, liking the heroine more and more with every page turned… Yes, I do recommend this book.
The heroine, Valancy Stirling, is a 29-year-old 'old maid'; her family is bossy, domineering, controlling and gossipy. Valancy hates her life.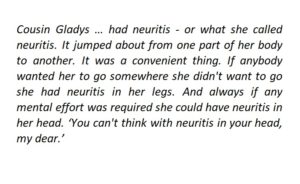 But then something happens to change Valancy's life forever. She is diagnosed with a mortal illness and is given just a short time to live. Valancy spends a night considering her life and is galvanised into making changes and we marvel at what she does and how she does it.
We are thrilled that Valancy finally stands up for herself, but then she says things that we are thinking and that we want her to say. We are thrilled and shocked at her actions and we cheer her on through it all. We also watch her change, and the change is fascinating. This is what happens in real life – people do change. According to their attitude and their circumstances they change.
Now you know I hate it when a reviewer spoils the story or even tells you the ending, so suffice to say that it's a satisfying read with excellent descriptions of 1920s small town Canada and countryside, and outstanding character observations. And here's something special – I will read this book again. That's high praise coming from this reader who normally hasn't time to read any book a second time: so many books – so little time…
If you decide to read this book, write to me and let me know. And if you have recommendations for books to read, I am interested. Write to me: stephanie at homeschoolfamilylife dot com
During the month of May I will be reading a worthy book published between 1930 and 1939 – one that's not been made into a movie or television series. And I will report back in a month.